Even in the darkest of times, it was possible to find some lighter moments ...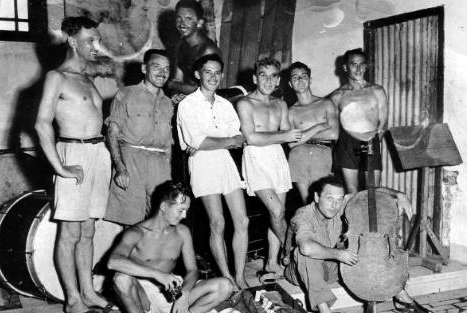 The Cello ...
It is also true that in times of despair, sadness, fear and uncertainty, man will seek to lighten those times with laughter. So it was with the prisoners of war captured after the Battle of Hong Kong. A group of officers and men got together to entertain their fellow prisoners with concerts, skits, and plays, thereby injecting a little light into the squalid world in which they lived for 44 long months. It did much to bolster morale and to literally keep the men's spirits alive. A good example is the cello. It was constructed from old oil cans, bits of wood, and other odds and ends, for my father by RR of C Cpl. Stewart Hendersen, Rfm. Wilbur Lester and another soldier by the name of Ampi. How my Dad loved that cello, or viola as Cpl. Henderson called it.
When they could laugh the pain was a little easier to bear ...