BUY THE BOOK THAT TELLS THE
STORY OF THE FINAL BATTLE,
"DEADLY DECEMBER"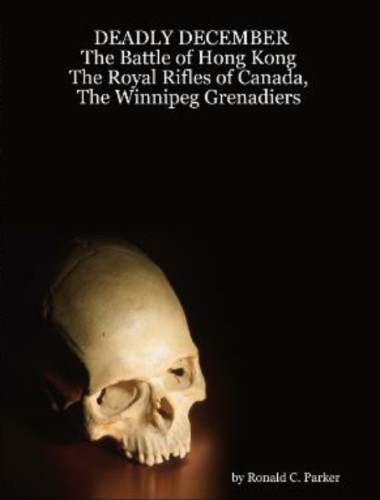 DEADLY DECEMBER

Get the book that tells the story of The Battle of Hong Kong from a Canadian perspective in detail and in the words of those who fought for 18 horrific days until Christmas day, 1941.
The saga is told from a Canadian perspective, using the words of those soldiers who fought that, long ago, almost forgotten battle.

Ronald C. Parker, the son of a WWll Hong Kong veteran, has written a book that tells the wrenching story of one of the great battles of World War ll , "The Battle of Hong Kong ".

He is the son of Major Maurice A. Parker, Commanding Officer of "D" Company, The Royal Rifles of Canada.

Available at Amazon or Lulu $19.95 plus shipping. Read Reviews.
Reader Reviews
Someone once told me that in order to see where you are going, you first must look to see where you have been. My Uncle, Angus MacMillan, was a Lieutenant in "D" Company of the Quebec Branch of Royal Rifles. I only once had the privilege of listening to him talk about his time as a Prisoner of War in Hong Kong. I had many questions but I thought,…next time! Sadly he died in a crosswalk in White Rock, BC. There would be no "next time". When I received the press release from Ron, about his book, "Deadly December", I immediately ordered it. Upon arrival,I began to read it, and did not want to put it down.
There were times when I was moved to tears, and there were times when I felt angry, and asked the question "Why?" This is a factual account of what happened to the Royal Rifles. Thank-you Ron, for telling their story, and for answering my questions.
Pat MacMillan Olson, Feb. 8, 2007
___________________________________
Ron Parker's book is, in a large part, a testimony to the experience of his father, Major Maurice Parker, company commander of "D" Coy of the Royal Rifles of Canada in the defence of Hong Kong against the Japanese invasion in 1941. Ron is a long time student of the Battle of Hong Kong and its aftermath, when the defenders of the colony were incarcerated in Japanese prison camps for almost four years. His treatment of the story of the battle and the prelude to the battle shows the interest and dedication that has been of so much importance to him in his efforts to bring to his readers the causes and effects of the hopeless struggle. A great book.
P. Doddridge, Feb. 7, 2007
___________________________________
Very impressive book. I particularly appreciated how the author, Ron Parker, provided some background information before launching into the story of the battle. He described the history of Hong Kong, gave short biographies of key figures, wrote about the fighting forces - in short, he made everything clear from the beginning. He included first-person accounts along with his narrative, which added much colour and vitality to the telling. There was enough detail to give the reader a strong feeling for what happened, but not enough to overwhelm or slow down the narrative. I found Deadly December to be a very informative but deeply moving book. Well done, Mr. Parker....More >< LessReport as inappropriate.
Sheryl Mercer, Feb. 5, 2007
___________________________________
A well written and excellent Documentary of how Hong Kong fell to invaders in December 1941. As a former resident of Hong Kong, I can state that this book is a very factual account of just what occured there from a Canadian perspective. As a former member of the Royal Australian Air Force, I have a great deal of empathy with the author who gave an account of his Father's life in Hong Kong as a member of The Royal Rifles of Canada & The Winnipeg Grenadiers. This book should be a "must read" for all Servicemen/women.
Peter Stickland, Perth, Western Australia....
___________________________________